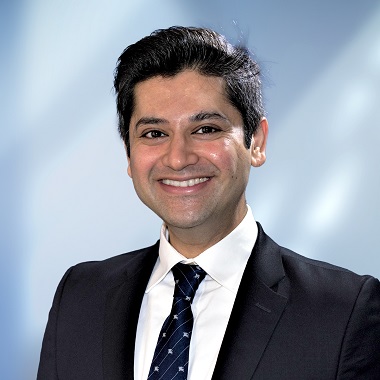 Syed MahmoodM.D.
Chief Medical Officer
Dr. Syed Mahmood is a physician-scientist with over 15 years of experience in U.S. and Global pharmaceutical and biotechnology companies, in leading strategic, translational medicine, clinical development, medical affairs and operations teams, and clinical practice in academia.
Prior to joining EdiGene, Dr. Mahmood served as Senior Vice President, Clinical Development at Intensity Therapeutics advancing intratumoral therapies in oncology applications. Previously, he has held leadership positions at Novartis, GlaxoSmithKline, Daiichi Sankyo, GE Healthcare and Progenics Pharmaceuticals. Over the course of his career, he has successfully built and led teams responsible for Phase I to III clinical programs and medical affairs activities in small molecules, biologics, radiopharmaceuticals and cell and gene therapies in hematology/oncology, immune-oncology, immunology, rare diseases and other disease areas. He has played critical roles in multiple drug development programs and launches including Progenics's AZEDRA® and PyL®, and GSK's/Novartis's Tafinlar®, Mekinist®, Votrient®, Tykerb®, Affinitor®, Piqray®, and Kisqali® programs.
Dr. Mahmood studied medicine at the George Washington University School of Medicine and Health Sciences. He completed a medical internship from Aria-Jefferson Health, a residency in Nuclear Medicine from Memorial Sloan Kettering Cancer Center, and a PET fellowship at Montefiore Medical Center. He previously served as an Attending Physician at the University of Pennsylvania, and now as an Attending Physician at Montefiore Medical Center, Jacobi Medical Center and North Central Bronx Hospital. He is board-certified by the American Board of Nuclear Medicine.
Return