EdiGene Announced Strategic Collaboration with Genetron
Time:19-04-03 09:06
Form: Null
Views:968
BEIJING, CHINA and CAMBRIDGE, MASSACHUSETTS, US – (April 2nd ,2019) EdiGene Inc., a genome editing company which develops genome editing technologies into novel therapeutics for a broad range of diseases and into creative solutions to advance drug discovery, and Genetron Health (Beijing) Co.Ltd (Genetron), a leader in cancer precision medicine in China, which provides cancer researchers and healthcare providers a full cycle of products and services, today announced they have signed an agreement. Under the term of the agreement, they will combine EdiGene's high throughput genomic screening platform with the large-scale cancer database of Genetron to search drug or diagnosis targets for precision medicine development.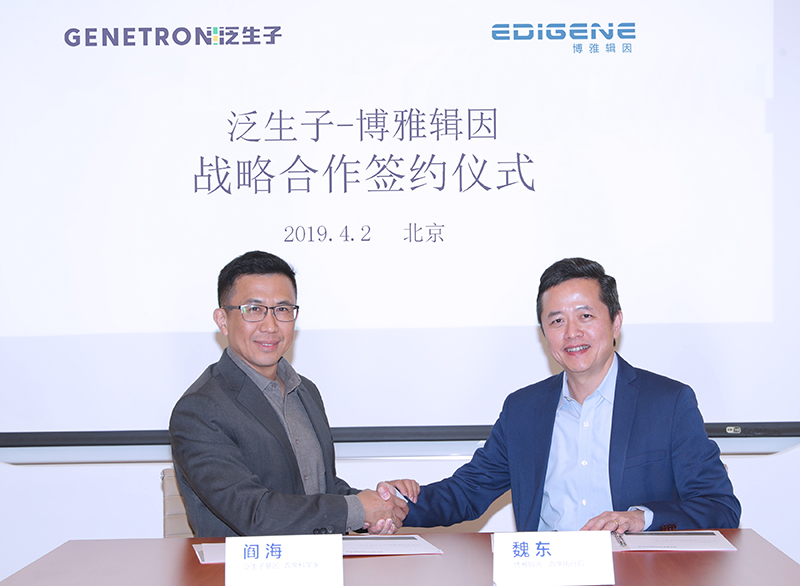 Targets in approved drugs or diagnostic methods for cancer are limited. Most of new drugs and diagnostic methods approved recent years are based on previously known targets. Precision medicine approach, with its benefit to patients, are only available for a limited number of cancers. To create more precision medicine options for more cancer patients, EdiGene and Genetron are now forming an alliance to better integrate the power of the high throughput functional screening with genome editing technologies with that of the large-scale database from tumor analysis.
"High throughput genome editing screening enable us to acquire and analyze functional big data in the native biological context, but to select the best target for drug development, one would want to understand the initial hits in primary tumor samples from the real world." said Dr. Dong Wei, CEO of EdiGene, "Genetron focuses on cancer precision medicine and have built up a large molecular database of cancers. In addition, Genetron has advanced and comprehensive sequencing platform, and leading technology in biological data production and analysis. This agreement with Genetron may provide more precise reference for development of targeted drug, companion diagnostics, and gene therapies."
"Targets for cancer diagnoses and treatments are far from enough. Genetron has a database of tens of thousands of cancer samples which cover all cancers of high frequency in China. It is a good complementary to the innovative and world leading technologies of EdiGene.Through this strategic cooperation, we hope we can create great clinical value in the field of both diagnostics and therapies to benefit patients and doctors."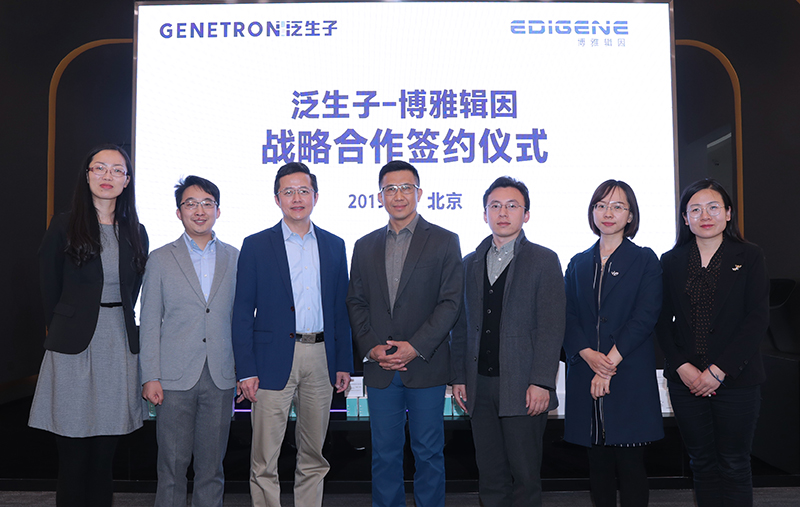 ---
About Genetron Health (Beijing)Co. Ltd

As a leadering cancer precision medicine in China, Genetron is practicing the research and development concept of "exploration, discovery, application and change". Genetron offers cancer researchers and health care providers a full cycle ofproducts and services from prevention to treatment, including risk assessment,early screening, molecular diagnosis, medication guidance, and prognosis monitoring, including but not limited to the brain, lung, liver, colorectum, bladder, breast, stomach, and thyroid cancers.
Genetron maintains two research and development centers, one in China and one in the United States, and four clinical diagnostic laboratories across China. Genetronis accredited by both CAP and CLIA. Genetron provides both diagnostic products and services to hundreds of scientific research institutions and has served tens of thousands of cancer patients. Its in-depth vision has laid out opportunities both upstream and downstream in the industrial chain for future development. In the field of cancer early screening, Genetron has already developed high sensitivity and specificity technology that is being validated in larger cohorts. The rigorously validated technology platform will hold promise for future earlier cancer screening.
---
About EdiGene Inc.

EdiGene Inc is founded in 2015, and now headquartered inBeijing, with operational subsidiaries in Guangzhou, China and Cambridge, USA. Our mission is to translate the cutting-edge genome editing technologies into novel therapeutics for genetic diseases and cancer, and into creative solutions to advancedrug discovery. We leverage our proprietary platforms to develop gene-editingt herapies for a wide range of diseases, and to conduct high-throughput genome screening to enable dissection of functional big data in biological contexts.
Return