Genome Editing Biotech EdiGene Raises $15 Million in Series pre-B Financing
Time:18-08-08 14:22
Form: Null
Views:4457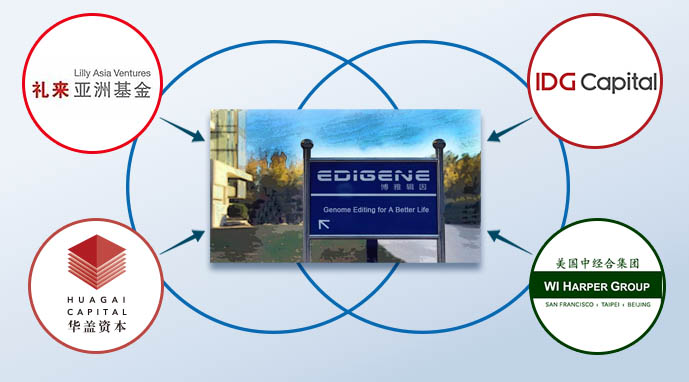 BEIJING, CHINA and CAMBRIDGE, MASSACHUSETTS, US–(August 8, 2018) – EdiGene Inc., which develops genome editing technologies into novel therapeutics for a broad range of diseases and into creative solutions to advance drug discovery, today announced the successful completion of approximately $15 Million in a Series pre-B financing.
The financing is led by new investor Lilly Asia Ventures (LAV). New investor HuagaiCapital participated in this round. Series A lead investor IDG Capital, Series A investor WI Harper Group and other insiders also participated in this round.
"This investment will allow us to continue advancing ourpromising portfolio of therapeutic programs based on gene-editing technologies," said Dr. Dong Wei, CEO of EdiGene, "In addition, we will continue to further develop our proprietary High Throughput Genome Screening platforms into a comprehensive solution for our partners in key areas such as drug sensitivity, drug resistance and synthetic lethality."
"We are excited to invest in EdiGene," said Dr. Fei Chen, Managing Partner of Lilly Asia Ventures, "Gene editing is bringing evolutional breakthrough to drug discovery and potential clinical therapeutics, and we are pleased to collaborate with EdiGene team and to support EdiGene's growth in the global market."
"This new round of financing led by Lilly Asia Ventures with participation of new and existing investors further validates the progress we have made and the potential of our platforms," said Dr. Wensheng Wei, founder of EdiGene. "Now we arewell positioned to further advance our pipeline and get one step closer to help patients with our technologies. We look forward to working with Lilly Asia Ventures and other investors for the years to come."
About EdiGene, Inc
EdiGene Inc is founded in 2015, and now headquartered in Beijing, with operational subsidiaries in Guangzhou, China and Cambridge, USA. Our mission is to translate the cutting-edge genome editing technologies into novel therapeutics for genetic diseases and cancer, and into creative solutions to advance drug discovery. We leverage our proprietary platforms to develop gene-editing therapies for a wide range of diseases, and to conduct high-throughput genome screening to enable dissection of functional big data in biological contexts.
About Lilly Asia Ventures (LAV)
Founded in 2008 and headquartered in Shanghai, LAV is a leading VC firm investing in the biomedical, pharmaceutical and medical devices/diagnostics industries in China and US. LAV provides early-to-growth-stage companies with wise capital, professional expertise and valuable resources. LAV has offices in northern California, Shanghai and Hong Kong.
+86 10-80733899
www.edigene.com
Return